As an Amazon Associate we earn from qualifying purchases.
As the year's progress, the beauty industry continues to emerge with new techniques and styles to help women create a flawless face. To put your best face forward, it's important to practice make-up application and get the right tools.
It's also incredibly important to pick out the right shades for your skin tone. There are so many rules to remember, and it can be understandably overwhelming. As a result, many women just do what "feels right" and end up making some major makeup mistakes.
While these mistakes are common, they still need to be corrected. If you find yourself making any of the mistakes listed below, consider this your notification to confess your makeup sins and learn about the good news of the makeup gospel. There's so much redemption on the other side of your makeup woes.
#1. Skipping Mascara
Audrey Hepburn once stated, "the beauty of a woman must be seen from in her eyes because that is the doorway to her heart, the place where love resides." To cover the basics such as face and lips, many women skip the eyes and the eyelashes. The eyelashes frame the eyes and are such gorgeous assets in any woman's face.
When you enhance your eyelashes, you'll simultaneously create an alluring and irresistibly feminine look. Just use a simple coat of volumizing or elongating mascara on the lashes. Volumizing mascara truly adds body and makes your eyes pop. A simple swipe of mascara will work wonders, and you might not have to wear too much makeup anywhere else.
#2. Using Bad Lighting
It's pretty common for most women to do their makeup in the bathroom. After all, the bathroom has the best lighting, right? Actually, the bathroom probably has the worst lighting. Unless your bathroom has a huge window that lets natural light shine through, stay out of the bathroom.
Furthermore, avoid any area that doesn't contain natural light. Unless you're a professional, it can be pretty difficult to figure out how much of a difference the lighting will make on your makeup application.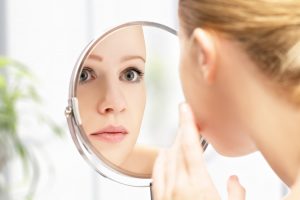 Fluorescent lighting shines in such a way that tricks women into putting on more foundation, concealer or layers of makeup than they truly need. To achieve the best results, get a great mirror and set up your vanity in front of your bedroom window.
You'll be able to get a more natural idea of what your makeup looks like and how much you should apply. Yoko Ono says to "smile in the mirror. Do that every morning, and you'll start to see a big difference in your life." Let's just make sure that the mirror is in front of some excellent natural lighting!
#3. Overuse of Bronzer
There's no reason why women should walk around with a face full of glitter. It looks unnatural, clown-like and a little scary. Keeping bronzer in your makeup arsenal is wonderful. However, it should be used as an accent on your face. Never should your face be filled with bronzer.
One of the best tricks to use when it comes to bronzer involves the number three. Lightly dab the brush in the bronzer and trace the shape of the number three on the sides of your face. You'll cover your temple, your cheekbones and the sides near your chin. This trick will give you the perfect sun-kissed accent you're looking for without looking like you dipped your face in a vat of glitter.
#4. Brush Cleansing
After you brush your teeth, you always rinse off the toothbrush when you're done. You'd never leave the foam of the toothpaste on your toothbrush to dry and flake, would you? It sounds pretty disgusting, but many women do the same thing with their makeup brushes.
Get into the habit of cleaning your makeup brushes and tools after every application. These tools are coming into direct contact with your skin. Taking a simple brush cleaner and rinsing off brushes isn't difficult to do. When it comes to your face and makeup, always maintain hygienic practices. Your skin will thank you.
#5. Moisturizing & Application
Have you ever had that lovely, dewy look with your makeup? On those days, it was probably timed well with your moisturizing routine. In case you didn't know, a good makeup routine is backed up by an even better skin care routine.
After thoroughly washing, toning and moisturizing the skin, you have between one to ten minutes to apply your makeup. Throw on a bathrobe and do your makeup before putting on your clothes. Your skin and your full face of flawless makeup will thank you.
If you're unsure of how to correct other makeup mistakes, talk to your friends. Visit a makeup counter. Do a search on YouTube. There are ways to make sure you put your best face forward. Now that you know better, you can do better!
Amazon and the Amazon logo are trademarks of Amazon.com, Inc, or its affiliates.