As an Amazon Associate we earn from qualifying purchases.
Flat irons are a phenomenal way to completely revolutionize the way that you style your hair. As an incredibly versatile heat tool, people with curly hair can have straight and sleek styles within a matter of minutes or you can use the flat iron to create your own rendition of barrel curls.
If you tend to criss-cross the globe, or plan to do so in the future, you're probably already well aware that certain small appliances may not work in other countries. The easiest way to avoid problems like this is to invest in a dual voltage hair straightener.
If you're in the market for a dual voltage flat iron, you'll find that our detailed buyer's guide provides plenty of important information. We're here to help you find a dual voltage flat iron which is perfect for international travel.
Dual Voltage Hair Straightener Reviews
Top Seller!

Great Reviews!

Best Value!

HSI Professional

GHD Classic

BaBylissPRO Nano

Value Hair Straightener for All Hair Types

Top Quality Brand

Small & compact makes perfect for travel

Value: 5 out of 5

Value: 4.5 out of 5

Value: 5 out of 5

Our Overall Rating

5 out of 5 stars

Our Overall Rating

4.5 out of 5 stars

Our Overall Rating

4 out of 5 stars
---
#1. HSI Professional Ceramic Tourmaline Ionic
Pros
Top seller
Heats up quick
Great for thick hair
Cons
The best way to make sure that you're choosing a great flat iron is to ensure that it works on all hair types and the HIS model is perfect for both fine and coarse hair, meaning that it will straighten even the thickest curls.
With the 1" solid ceramic tourmaline plates, it helps to hold heat into the plates longer than other types of flat irons, which is essential for achieving the ideal style.
The industry leading infrared heat technology helps to penetrate the hair shafts and straighten much faster than you've ever experienced before. Whether you're looking to straighten, curl, or flip your hair at the end, this model does it all.
With heat settings that reach up to 400 degrees Fahrenheit, you won't have an issue getting the perfect style for any occasion.
Also, take advantage of the revolutionary argan oil treatment (included with the flat iron) to add additional shine after styling.
---
#2. GHD Classic 1-Inch Styler
Pros
The quality build will last for years!
Cons
Doesn't get warm enough for thick hair
GHD is by far one of the most popular professional brands and if you've ever visited a hair salon, there's a high probability that they've used GHD heat tools on your hair before.
Their flat irons offer an advanced heating technology that not only helps to get the ceramic plates hotter faster, but it also helps to trap the heat in the flat iron for optimal styling time.
The convenient of the ceramic plates helps to tame flyaways and give a sleek and shiny appearance after styling. With the various voltage options, this flat iron is perfect for travelers that want to have access to the perfect hair around the world.
As an included safety feature, the flat iron will automatically shut off after 30 minutes, perfect for people who have the tendency to forget that their styling tools are on. Take advantage of the 9-foot swivel cord, which gives you the optimal amount of freedom while you're straightening, curling, or waving your hair.
---
#3. BaBylissPRO Nano Titanium
Pros
Cons
The BaByliss Nano – titanium plate flat iron is a convenient model for users with a variety of hair types because it comes in different plate sizes ranging from 1" to 2".
The length of each porcelain plate is 4" and it is important for styling the most amount of hair possible. You can easily reach temperature settings as high as 450 degrees Fahrenheit, which is essential for users with all different hair types ranging from fine to coarse.
The straightener offers instant heat, making sure that you can achieve the perfect style in the least amount of time possible which is perfect for mornings where you can't spend 30 minutes styling your hair.
Be sure to take advantage of the 8-foot swivel cord that is specially designed to give you a tangle-free styling experience and the most amount of freedom while you're working on your hair.
The porcelain ceramic plating is essential for not only protecting your hair shaft but for also making sure that you achieve the most flawless finish possible. You won't have to worry about unruly strands of hair or frizzy locks in the middle of high humidity; it helps to lock in the style for an extended period of time.
---
#4. xtava Pro-Satin Infrared
Pros
Universal dual voltage (110 – 240V AC)
Suits thick and natural hair styles
Cons
Button controls are placed in an akward place
This revolutionary hair straightener takes advantage of new technologies to give casual and professional stylists the ability to preserve the integrity of the hair shaft, even with consistent straightening.
The infrared heat technology is specially designed to cause less damage to the hair cuticle, making it safer to use on a daily basis. It also offers a 2-inch wide floating plate, which is perfect for users that need to style large sections of hair at a time.
With the dual plate technology, you can rest assured that the most amount of heat will be trapped in the ceramic plating for quick and easy styles. There is a microprocessor included in the flat iron that is designed to offer 10 temperature settings as high as 445 degrees Fahrenheit.
The 90-second heat up and the auto shut-off are two important features to make styling easier, as well as the 8-foot 360-degree swivel cord.
---
#5. Herstyler Colorful Seasons Ceramic
Cheap, and buyers love it for all hair types
Compact size is perfect for traveling
Cons
Plates aren't quite as big as the 1.25″ claimed
Heavy for its small size
As another affordable flat iron, the Herstyler Ceramic models are reliable and easy to use for both beginners and veterans.
The integrated anti-static and anti-frizz technology are essential for styling all types of hair throughout the seasons. Also, the ceramic plating is great for protecting more of your hair as you straighten it more often.
According to Herstyler, this model is said to get your hair up to 89% straighter than ever before and without any signs of frizz.
There is a fast heat up feature with different heat settings that you can choose from that goes as high as 455 degrees Fahrenheit. The ceramic plating is smoother to give you the fastest glide possible as you make your way down your hair shaft.
---
How to Buy a Flat Iron Straightener for Travel Abroad
What Does Dual Voltage Mean?
Devices which feature dual voltage will accept 220-240V and 110-120V. Lots of small appliances and gadgets do feature dual voltage. To see if an existing flat iron is a dual voltage, check the appliance and see if applicable voltages are printed on it. If you can't see voltage information printed on the appliance, consult your Owner's Manual or look for the information online.
When shopping for a new flat iron for world travel, check product details at websites to establish dual voltage for preferred models.
Which Countries Are Especially Important to Consider?
A lot of people invest in dual voltage flat irons because they travel between America and Europe. So, the USA, as well as all European nations, are particularly important to consider. The electrical system in Europe is not like the American electrical system. USA appliances will run on 110 volts, while appliances in Europe will run on 220 volts.
Will I Also Need Power Adapter Plugs When Traveling?
If you travel with a dual voltage flat iron, you'll need to buy a power adapter plug, which is also known as a travel adapter or plug adapter. Plug adapters are not very expensive and they are also quite compact. As well, they don't weigh much. So, don't forget to pick up one of these plugs when you buy a new dual voltage flat iron for use while traveling.
Does My Hair Dryer Also Need To Be Dual Voltage?
If you're planning to stay in a hotel in Europe or America, there may be hair dryers available for you to use. This is quite common. So, you'll need to decide if you should buy your own dual voltage hair dryer or not. The simple answer to this question is that your hair dryer will also need to have dual voltage. For example, if you go to London, England with a cheap American hair dryer which doesn't have dual voltage, you may find that it doesn't work and it may even blow up. So, this is another small appliance to invest in, unless you're confident that hair dryers will be available at your destination.
Once you have a dual voltage hair dryer (many travel hair dryers do offer this feature), you'll notice that it has a compact switch on it. Set the switch to the appropriate voltage. Then, you'll need to plug a "converter" plug" into the electrical outlet. Many plugs which are converted for Europe feature a couple of prongs that are rounded, which fit into European outlets. In the USA, prongs have rectangular shapes.
Next, plug your small appliance into the converter plug which is already in the electronic outlet. Then, turn on the hair dryer and style as usual.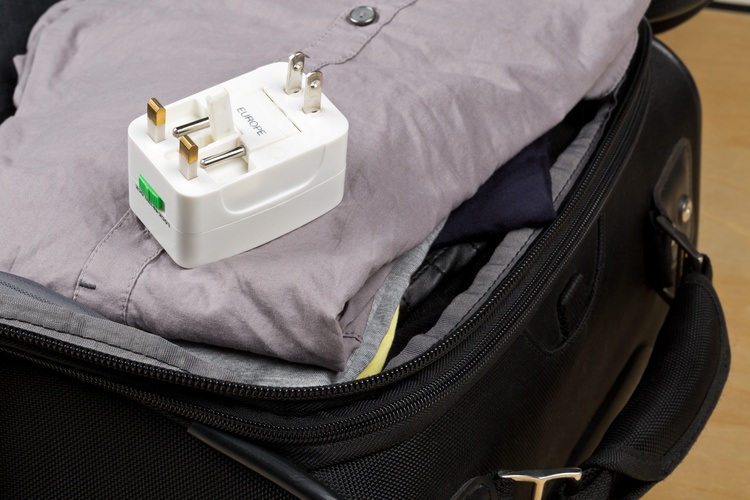 Whats The Risk When Traveling With a Single Voltage Flat Iron?
The risk of an exploding small appliance is the biggest risk! It's not safe to try and use a flat iron with the wrong voltage. Now that you know how to find a dual voltage flat iron for international travel, as well as a converter plug, you'll be ready to enjoy safe flat iron performance while you're in another country.
Shop for a Dual Voltage Flat Iron Today
You deserve superb quality and plenty of dual voltage flat irons which are very well-made are out there. Now that you know what to look for and what you need, why not shop for a dual voltage flat iron today?
Flat Iron Buyers Guide
If you're in the market for a more affordable flat iron that offers quick straightening and a variety of heat settings, the HIS Professional Ceramic is your best option. It gives you the ability to achieve a variety of styles from tight curls to pin-straight locks.
With the use of its ceramic plating, it will protect your hair more than other heat tools. If money isn't a factor and you're simply interested in the best flat iron, regardless of the price, the GHD Classic is the one to choose as it is frequently used in professional settings and trusted by some of the world's most popular stylists.
There you have it – six of the best flat irons currently on the market. Settling on which model to buy isn't easy, just remember that like most electrical appliances, for the most part, you get what you pay for, an essential component of your daily regime that will last longer and deliver great results.
Everything You Need to Know about Choosing a Hair Straightener
There are lots of different types of flat irons for hair straightening, but among the most popular options are the ceramic and the titanium variants. While both of these flat irons get the job done, they aren't completely the same. Choosing the right flat iron for your needs depends on understanding these differences and figuring out which type will work better on your hair.
More about Ceramic Flat Irons
Many of the flat irons you will find being sold at appliance stores or online are the ceramic type. Offered at much cheaper prices, ceramic flat irons are much more budget friendly compared to their titanium counterparts.
Many of those who use flat irons at home usually opt for ceramic flat irons because they're easier on the wallet and they produce heat at a much more even rate. This means amateur hairstylists won't need to worry about damaging their hair because of uneven hot spots as ceramic flat irons are designed to be easy to use even for those with little to no experience in hair styling.
The ceramic flat iron is ideal for those who want to straighten their hair occasionally at home and who are limited to a small budget.
More about Titanium Flat Irons
The main difference between ceramic and titanium flat irons is that the latter is much more efficient at conducting heat. What does this mean for users? Those who opt to buy titanium flat irons can expect their hair styling tool to become much hotter much faster, making it ideal for those who have some experience with hair styling.
While it isn't likely for you to damage your hair with a titanium flat iron, it helps to understand that this tool does reach much hotter temperatures than ceramic flat irons. The upside about this main feature of titanium irons is that it can straighten your hair in a much shorter time, regardless of its condition.
This means hair that's wet, frizzy, oily, or curly can be easily straightened with the titanium type of iron. Of course, because they take much less time to use and because they're a lot more effective at maintaining straightness even hours after styling, titanium flat irons come at a much steeper cost.
If you want to maintain your hair straight throughout the day, if you want to achieve your desired look much faster, and if you have a few extra dollars to spare, then the titanium flat iron is your best bet.
Which One Should You Choose?
When it comes to deciding between ceramic flat irons and titanium flat irons, it boils down to your hair type, your time, and your budget. People with wavy hair can settle with ceramic flat irons because it takes much less heat to work out waves and create a straight look.
But those with frizzy and kinky curly hair would do much better with the titanium flat iron as it offers a much more powerful straightening capability to manage difficult hair types.
In terms of time, the titanium flat iron takes the cake. Taking as little as a minute to achieve the highest temperature limit, the titanium flat iron consumes much less time, allowing users to achieve their ideal look faster. Those who don't mind taking their time with the styling process, on the other hand, can settle with something like the ceramic type.
Finally, if you don't mind spending a little extra on your flat iron, the titanium variant just might be right up your alley. If you're working on a tighter budget, the ceramic type should do you good.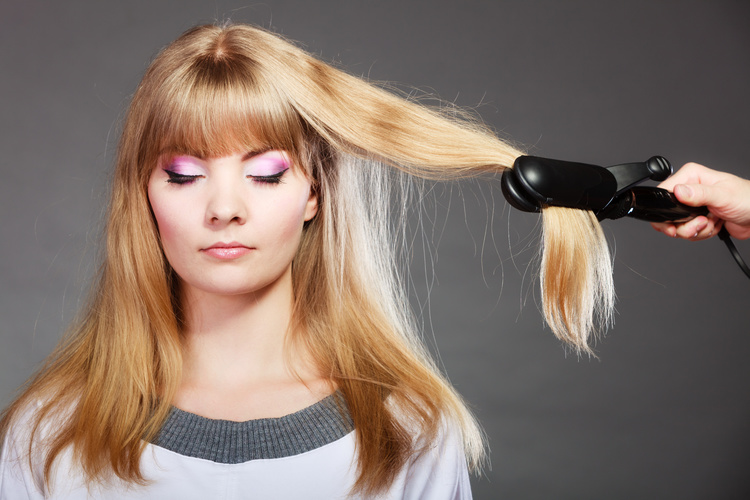 What is Tourmaline?
During your hunt for the perfect flat iron, you might come across a few that are advertised as tourmaline-plated. Both ceramic and titanium straighteners can be tourmaline-plated, but only a select few possess this feature.
Basically, tourmaline is a crystalline mineral that manufacturers crush and use to coat the plates on flat irons. Tourmaline works to improve the texture of hair after straightening because of the high output of ions that the mineral offers.
Which Hair Straightener Features to Consider
Temperature – There are some hair types that are much easier to style with heat, then there are those that require much hotter temperatures. If your hair is particularly frizzy or curly, you should definitely choose a flat iron that reaches much higher temperatures. For wavy hair that's less resistant to heat styling, a ceramic flat iron should do the trick.
Fire Risk – There are some cheap flat irons out in the market that might entice buyers with low prices, but pose serious safety threats. Don't be fooled by deals that are too good to be true. Read labels and ask all the questions that need to be asked before you buy a flat iron. This might just save you from accidents and injuries later on.
Weight – Many individuals take their heat styling tools with them when they travel, and if you're one of these people, you should take the weight of your flat iron into consideration. Lighter flat irons that are easier to pack and travel around with would be an obvious choice for travelers. But if you intend to use your flat iron strictly for home use, weight shouldn't be a major concern.
Price – No one wants to spend a fortune on a flat iron. Regardless of the benefits, there's no reason to empty your wallet over something that shouldn't be too expensive. Take your budget into consideration and find something that won't only fit your financial flexibility, but will also perform well when it comes to heat styling. Don't be fooled by fancy brands – there are some really good products that don't cost a fortune. Keep your eyes open for bargains; you never know what you might get.
Last Thoughts
Buying a flat iron is an investment, so take the time to learn more about your purchase! Take your hair into consideration and think about how you intend to use your flat iron before making your purchase. Check our guide for buying a straightener especially for thicker hair types.
Finally, set a budget and stick to it. The road to silky, straight hair is just a flat iron away – make sure you choose wisely!
Amazon and the Amazon logo are trademarks of Amazon.com, Inc, or its affiliates.