As an Amazon Associate we earn from qualifying purchases.
Search online for beauty advice and prepare for the deluge of hints, suggestions, and products that will come your way. Navigating all of this and finding something that works for you can be immensely challenging.
Thankfully, there are bloggers whose passion it is to write on this subject, providing you everything you need to know to be better informed about your beauty. It's our objective to bring you the best of the best of the best when it comes to beauty posts. With that in mind, we have included below 10 great beauty posts from popular bloggers that we think you should consider.
#1. Beauty By Britanie: Fitglow Beauty Lipstick In Craze
By Blogger: Britanie

https://beautybybritanie.com/2016/05/14/fitglow-beauty-lipstick-in-craze/
Bright and bold, Britanie takes a quick look at how Fitglow Beauty Lipstick can help to create incredible lips that pop. In addition to reviewing the differences in Fitglow colors, she also gets into the ingredient listing as well as the natural ingredients that she loves to see in cosmetics. A great source of information for Fitglow Beauty Lipstick, consider bookmarking this page if bold lips interest you. There are also some suggestions in the comments that can be useful.
#2. 5 Pro Makeup Tips No One Told You About
By Blogger: Marlena
https://www.makeupgeek.com/makeup-basics/5-pro-makeup-tricks-no-one-told-you-about/
Looking for things to help you with your makeup application? You are in luck! Marlena breaks down 5 pro makeup tips that unlike other lists of tips and tricks online, will have things you haven't thought about. From brightening the eyes with a light concealer and soft dome to applying face powder over lips to create a matte finish, you may come out of reading these pro makeup tips with a far better understanding of what you can do to customize and improve your look.
https://www.makeupgeek.com/makeup-basics/5-pro-makeup-tricks-no-one-told-you-about/
#3. My Eucerin Skin Consultation
By Blogger: Ruth Crilly
Sponsored by Eucerin, you (like us) may call into question just how unbiased this article is. However, despite the endorsement from the company, Ruth Crilly does a great job examining the product, as well as her experiences using the product. What follows is a comprehensive walk-through of the experience, ending in her personal thoughts regarding how effective it is. Simply put, if you are interested in Eucerin, and then consider reading this article before you go out and make your first purchase.
http://www.amodelrecommends.com/2016/04/26/eucerin-skin-consultation/
#4. 5 Makeup Mistakes You Make In Your Thirties
By Blogger: Kendra
http://citizensofbeauty.com/beauty-reviews/makeup-tips/5-makeup-mistakes-you-make-in-your-30s/
Taking a positive approach towards fixing common makeup mistakes for those in and around age 30, blogger Kendra breaks down 5 common makeup mistakes that many people tend to make. While some of her tips go into correcting basic form when applying makeup, others go into the need for carefully choosing a foundation that works for your skin color. Even if you are not in your 30's yet, the suggestions posted here can be a big benefit to those looking to improve their makeup.
http://citizensofbeauty.com/beauty-reviews/makeup-tips/5-makeup-mistakes-you-make-in-your-30s/
#5. My Nighttime Must-Haves
By Blogger: Raeviewer

http://www.theraeviewer.com/2016/05/review-my-nighttime-must-haves.html
Do nighttime beauty regimes interest you? If so, then you are not alone. For many, finding the right products can be a challenge. Thankfully, Raeviewer is here to help. Carefully listing the products she uses as her 'Nighttime Must-Haves' Raeviewer lists the steps and products in her nighttime beauty regime. Simple and to the point, it is designed to give you a better idea about what products you may want to consider and lists links to those products for you to learn more about them.
#6. Beautycalypse: Product Battle, Organic Liquid Eyeliners
By Blogger: Beautycalypse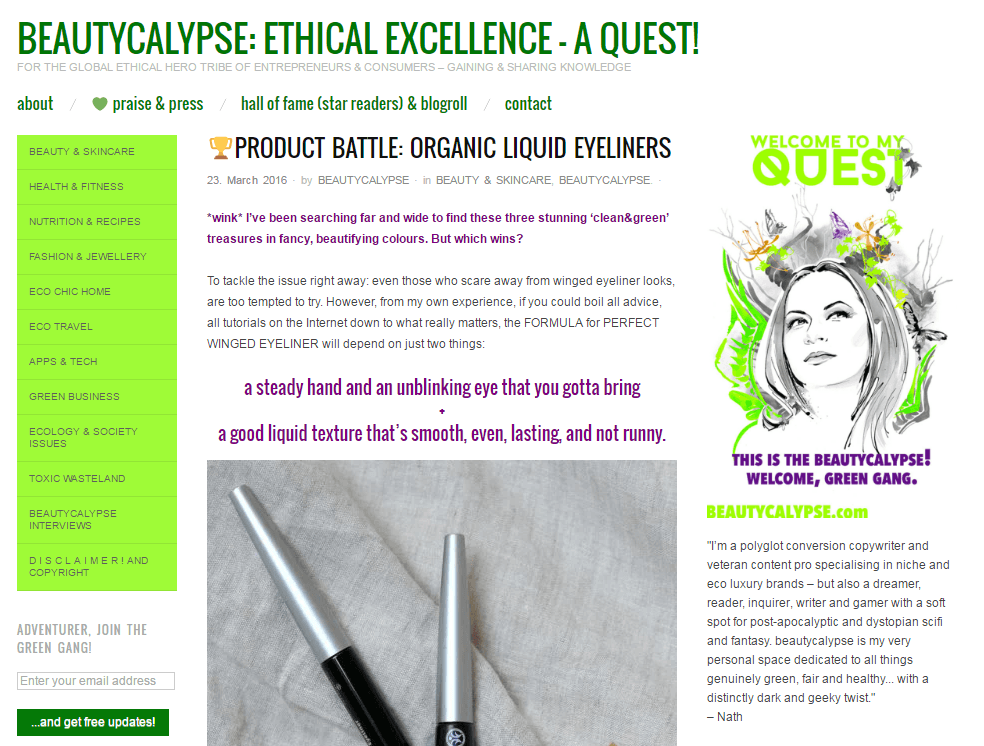 🏆Product Battle #8: Organic Liquid Eyeliners
Organic makeup supplies have become increasingly popular over time. If you are interested in these products, then finding one that provides the same look and feel as more traditional cosmetics while being affordable can be a challenge. Thankfully, Beautycalypse is here to test three well-known organic liquid eyeliners. The best thing about this review is the attention to detail paid in examining and breaking down each product available. If nothing else, Beautycalypse shows us how to properly compare different products to see which one works best for us.
#7. Flight Skincare, Camellia Face Treatment
By Blogger: Kimberlyloc
Kimberlyloc brings us a review of the Flight Skincare, reviewing in detail what the product can provide those who buy it. Her examination of the full ingredient list and subsequent talk about different skin types is an excellent way to see how skin will react different to any product depending on what it is like. In addition, her review stresses a critical point when shopping for beauty supplies and reading posts. Emphasize the ingredient list the brand name every time.
http://www.kimberlyloc.com/2016/05/09/flight-skincare-camellia-face-treatment/
#8. Ingredients Are Everything For Organic Skin Care
By Blogger: Dana
https://lilyfarmfreshskincare.com/ingredients-are-everything-for-organic-skin-care-2/
While organic makeup and skincare has taken the world by storm, few people have stopped to carefully consider what it means to be organic. Dana takes this topic head on by making the argument for carefully reviewing ingredients before buying. Rather than simply going with the 'organic' title, instead focus on primary ingredients and whether or not they are organic.
#9. 6 Definitive Rules To A Safe DIY
By Blogger: Sarita Coren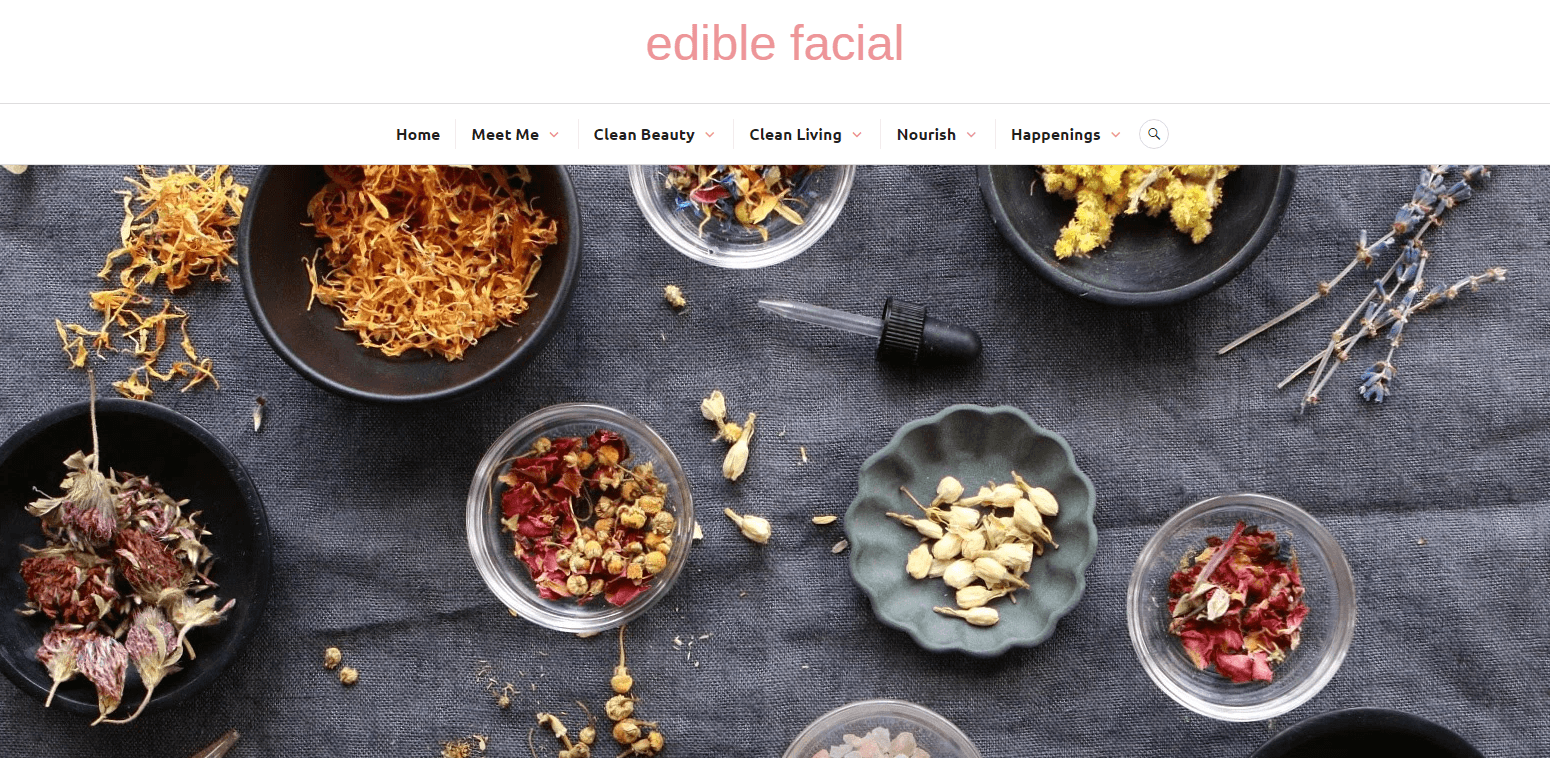 https://ediblefacial.com/2016/05/16/6-definitive-rules-to-follow-for-a-safe-diy/
A smart approach to the do it yourself craze, Sarita Coren takes a careful look at rules for how to DIY safely with cosmetics. A fantastic guide, you should carefully review this article before starting your next DIY cosmetic project.
#10. 5 New Things: Spring Makeup Hits + Misses
By Blogger: Caitie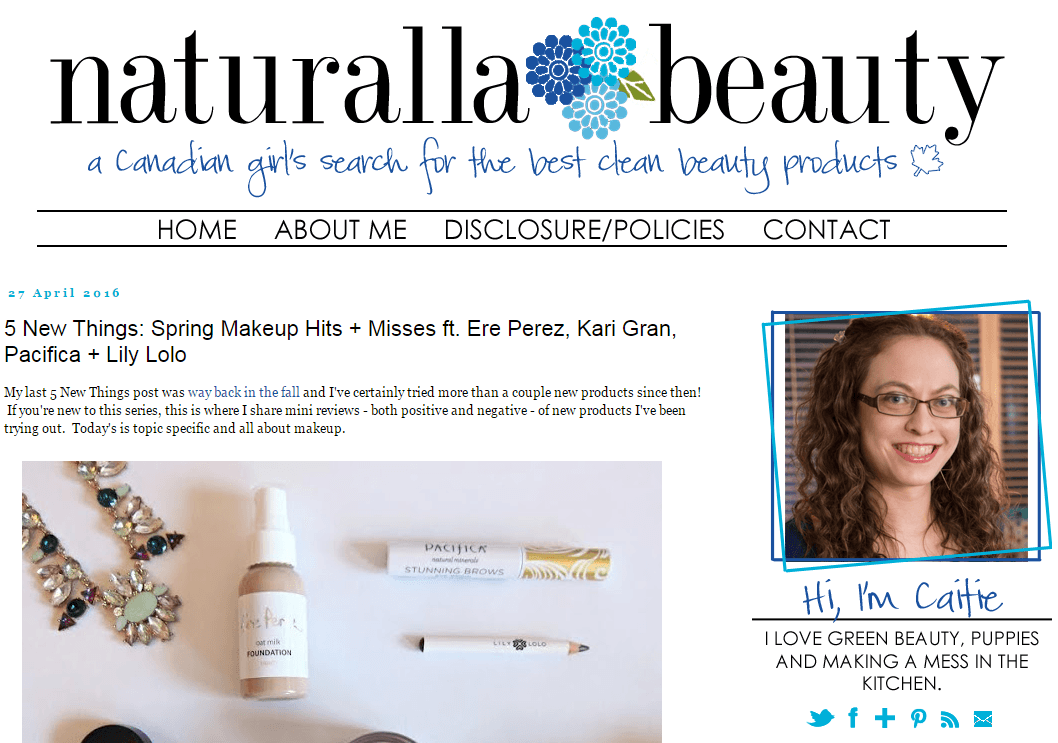 http://www.naturallabeauty.com/2016/04/5-new-things-spring-makeup-hits-misses.html
Highlighting those products that have made a name for them by being effective, Caitie breaks down 5 new things for makeup that should definitely be considered. Her thoughtful review of products provides a deeper look at how effective they are and whether or not you should consider getting them yourself.
Amazon and the Amazon logo are trademarks of Amazon.com, Inc, or its affiliates.