As an Amazon Associate we earn from qualifying purchases.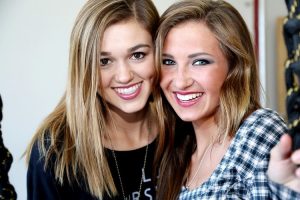 Selfies are a mainstay in modern times, and taking them can be a lot of fun whether alone or with friends. The problem is, it's hard to take a good selfie without having your makeup done just right.
However, preparing your makeup to look good in the mirror is a lot different than preparing it for a picture. That's why knowing some tips and tricks always helps.
Prior to turning the camera around to capture that smile, be sure to check yourself before you wreck yourself by following the top 5 simple makeup guidelines:
#1. – Go Matte with It
Matte makeup helps to reduce the amount of shine on your face, which is great when the flash is used. The last thing you want is to look like an oily mess in your selfie. Reflected light and glare can magnify the flaws in your skin, which can be a nightmare when you look cute otherwise. Simply apply some matte makeup over your favorite concealer and let the picture party commence.
#2. – Be Kind and Conceal
Speaking of concealer, be sure to use plenty of it before you snap that selfie. Don't cake it on, but don't skip it either. You may be having too much faith in your foundation. A good concealer can take care of dark circles, enlarged pores, blemishes, and fine lines, giving you a much smoother and appealing complexion.
Be kind to yourself and to those looking at your selfie; use concealer even if you think you don't need it, just be sure to blend, blend, blend.
#3. – Emphasize the Eyes
Eyes are among the first things noticed when a selfie is seen. As a result, taking extra time to perfect your eye makeup is a really good idea.
Make your eyes the main focal point by accentuating your lashes and brows. Add just a hint of shimmery shadow to the inside corners of your peepers, and highlight right under your brow bone for an amazingly open look. Try to avoid pastel colors, as they might make you look washed out in the wrong light.
#4. – Tint and Tone Your Face
It may be a wise plan for you to use a high quality yellow-tinted face powder when finishing preparations for your next selfie. This is because yellow-tinted powder can the light to be reflected off of your face, giving you a more filtered appearance. Finishing powders are perfect for picture day, just make you to take it easy so you don't look like a clown when the lens snaps.
PRO TIP: Using a silky bronzer or contouring kit is a great way to highlight your features and make you look even better.
#5. – Define the Lines
Your eyebrows are just as important as the rest of your face, and the same can be said about your lips. Don't forget either of them when getting ready for a selfie. Be sure to define your brows and outline your lips with a color that coordinates with your chosen lipstick.
It is somewhat difficult to take an attractive selfie when your uni-brow is showing, so take a moment to pluck and primp ahead of time.
Bonus Tip:
Doing your makeup perfectly for a picture isn't as hard as you think, but the mirror can be deceiving if you're not careful. In order to make the most of your makeup masterpiece, check your work in natural light.
Although your camera might present a flash upon taking the picture, the lens will work based off of the light in the area where the picture is taken. In other words, artificial light will trick your eye until the camera tells you the truth. In fact, some people apply too much or too little makeup due to this illusion, so don't let that happen to you.
Amazon and the Amazon logo are trademarks of Amazon.com, Inc, or its affiliates.